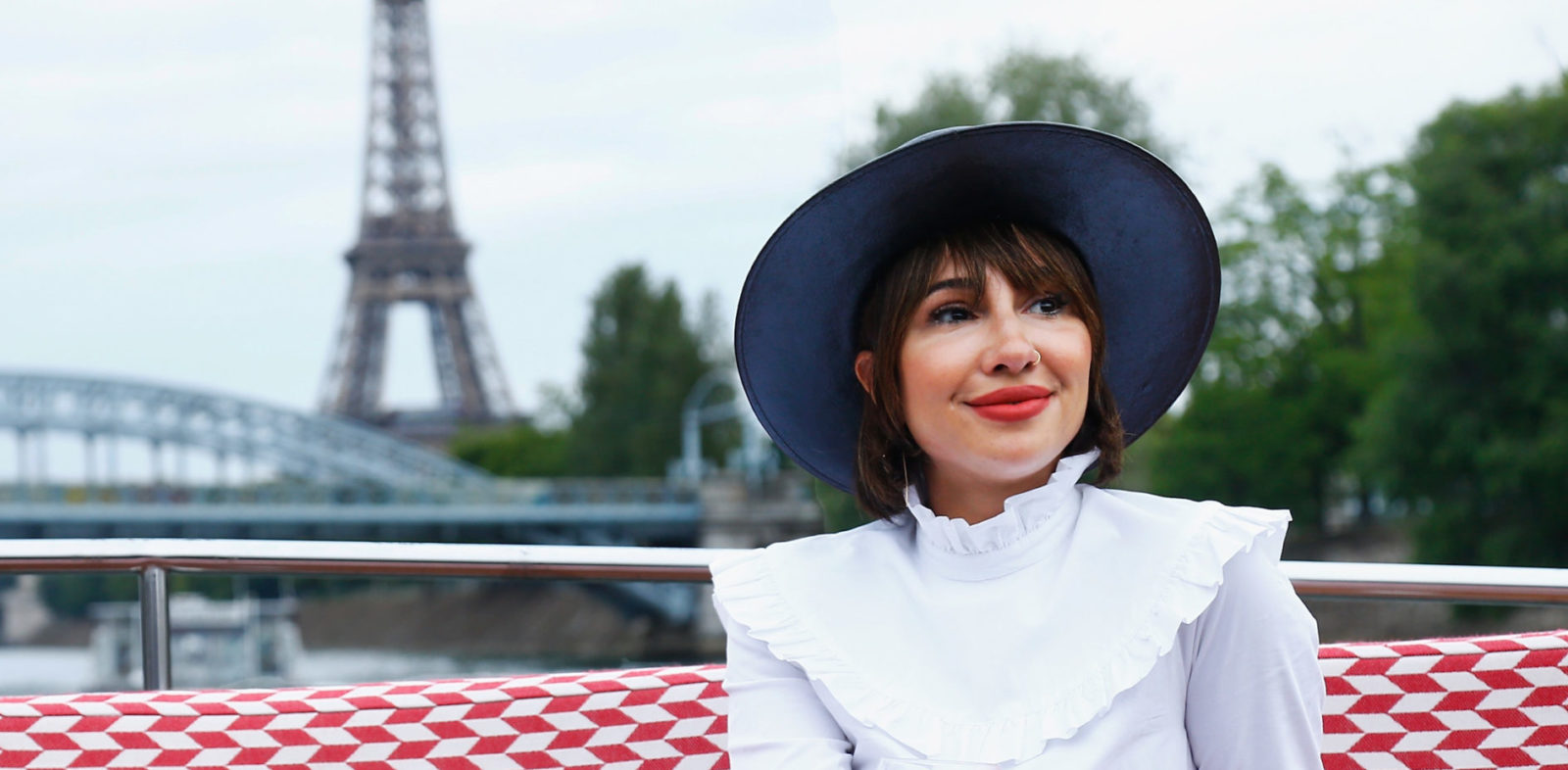 Julien M. Hekimian / Stringer
[video src="https://www.instagram.com/p/BvUbpfzHoPn/"][video src="https://www.instagram.com/p/B09vDhTHI_n/"][video src="https://www.instagram.com/p/BnkChcGACEe/"]
The Inclusive: Growing up, I know you said you didn't have any Latinas that you could look up to on the screen. What were your experiences as a little girl?
Jackie Cruz: Yeah, I grew up in the Dominican Republic, and we had cable, so we watched regular cable TV that's from America. Growing up, I never saw anyone that represented me, or looked like me, or 'Wow, I want to be like her when I grow up,' or 'What a cool character.' I never had anyone that I could be like that until maybe … And this is only through singing, not acting, when I heard Selena for the first time, and that's after her death. I was maybe about seven years old. I'm not sure. I learned about her, her following her dream, being in the United States and also incorporating her Mexican ancestry. I saw that, but again it wasn't acting, it wasn't everyday TV. It was this singer that just passed away that I became obsessed with. But there wasn't anyone that really represented me.
TI: What did you watch when you were growing up?
JC: Charles in Charge, Saved By the Bell, all those silly sitcoms. But the moment that I wanted to be an actress and a singer was when I saw The Bodyguard. Again, not someone that represented me, but I was mesmerized by her singing, and even though it was in Spanish, I fell in love with theater and music, and that's the reason why I wanted to become an actress and singer. I don't know. Maybe it was Whitney Houston. She didn't look like me, again, and it felt impossible. It really did feel impossible, but it was a dream that I wanted, and my mother said, "You know what? If you really want that, let me put you in classes and vocal lesson and acting classes. Let me see if you got what it takes." 
I really wanted to do it, so I started learning how to act and sing, I played the saxophone, and danced in a school in the Dominican Republic. Yeah, but at the time it was just a dream.
TI: But then it did become a reality. Tell me about your character on Orange is the New Black.
JC: My character on Orange is the New Black is Marisol "Flaca" Gonzales. To me, she's not stereotyped. It's so amazing and beautiful to play a character from Latin descent that is not stereotyped in America. She listens to the Smiths, Erasure, all these amazing '80s music, and then she speaks English fluently, she speaks Spanish, somebody that I connect with. It's kind of amazing almost being that change in Hollywood, being that one character that's Latina that's not stereotyped.
TI: When you went to Hollywood as a Latina and you know you're going to play Latina roles, what was that like?
JC: I'll tell you exactly how that's like. My mother believed in me. She's a doctor in the Dominican Republic and she left her career to move to the United States to be no one basically, and live in a little studio apartment, get some rent money in pesos to the United States so I can pursue my dream. At the time, I didn't know how big of a deal that was, but now that I'm older I realize that was a big chance that my mother took, and I'm so grateful for her and for her believing in me.
When I got to California, I was this dark skinned girl. Because I'm from the Caribbean I was darker than I am now because I was just under the sun all the time. I had this long curly hair and brown skin and I spoke Spanish fluently. But when I went to school I told them that I was a New Yorker because I didn't want to feel so different. You're always trying to fit in in school. Some people didn't even know where the Dominican Republic was. I'm like, "Oh my God, do you guys not learn? It's not Cuba. It's not in New York." Someone told me, "Is that in New York?", "No, honey."
TI: "It's in the Bronx."
JC: "Yeah, it's in the Bronx. It's next to Cuba and Puerto Rico." They didn't even know where my country was. That's crazy. I tried to get an agent, and that was really hard, because they didn't know where to place me. They're like, "Okay, you're Latina, but you don't look Mexican," and I'm like, "I'm not, though. There are all different types of Latinos. We don't all look the same. That's the whole point of being Latino. We're mixed." 
Yeah, so to get representation, I didn't get it. I didn't get representation until I was 18. Imagine moving to California when you're 15 and finishing high school. My mother left her profession. I had to start work, if I wanted anything for myself, from my headshots, everything. So in school I'm working. Everything was about my career. I didn't have so much of a childhood. I don't really want to get into it, but I say that Hollywood chewed me up and spit me out. I was in a really bad car accident at 17, because I moved out of my mom's house. What a little brat, right? She changed her whole life for me, and I didn't like her rules, and making me practice the saxophone, and all these classes she made me do.
"That's something that pushed me. Not all Dominicans look the same, and I'm going to be one of them to show you, to prove to you."
TI: Was that Hollywood or just growing up?
JC: It was growing up. My mother was really strict, and she really saw it in me, and she was trying to prepare me for Hollywood. Even though maybe visually I wasn't what they were looking for, maybe my talent will get me there. That's what my mother said. "Don't worry, you're going to make it. You have what it takes." She made me believe in me. Honestly, without her support or mentorship, I would be like, "I can't do it."
TI: Were you seeing a lot roles for the future?
JC: No. It wasn't sent out at all. I didn't get an agent yet. Zoe Saldana was somebody that was Dominican while I was growing up. I was like, "Okay." But, again, she wasn't playing Latina roles. She was playing either African American roles, because of her skin.  I have so much love for her, and we love her in our country, and it's somebody I was like, "Wow." You know what I mean? She represented my country. 
I was like, "I also want to represent my country and show them that we don't all look the same." That was something big that I wanted to do. Actually, that's something that pushed me, not all Dominicans look the same, and I'm going to be one of them to show you, to prove to you. So I always had that thing also in Hollywood, "You don't look Dominican, either. You're not dark enough," or something. So I wasn't dark enough to be Dominican, I wasn't light enough to be white, or brown enough to be Mexico. I don't understand. I was just in the middle, lost in Hollywood.
With not being able to get representation, with me not really having a childhood, I kind of rebelled against my mom, and I wanted to live by myself and just be a kid and go out with my friends and like boys and all that. I got into a really bad car accident when I was 17. I had brain surgery, lung collapse, kidney contusion, literally everything that my mom told me that I had was gone. My hair. She's like, "Your hair is going to make you famous one day," because it was beautiful and long and curly. Shaved head. My face was crooked, scabs, everything. So Hollywood to me was gone, because again growing up all I saw was beauty, as well. You had to be beautiful or some type of beauty to make it in Hollywood, too. So I was like everything was taken away from me. I went to a rehabilitation center when I was 17, and I was the oldest one there because you had to be 18 to go to the adult one. I was the only one that could eventually walk. Everyone was in a wheelchair or learning how to walk again. I wanted to die. I tried to die, and my mother was there telling me "You have to make it even more now because you have to inspire others. This is actually the reason you have to make it now for sure. God gave you a second chance."
I don't know if you believe in God, but I do, because I've seen death and it's scary. After that, I met this little girl in the hospital, Mellie Moreno. She's Mexican, and she's eight years old, and she also had a shaved head. She would come into my room. I was just a teenager devastated. I never paid attention to her. Until one day I was like, "Mom, who's that little girl," and she's like, "I don't know. Why don't you go and ask her?" I went and I'm like, "What's up?" She's eight. She's like, "You had brain surgery, too." I said, "Yeah." She's quadriplegic. She's like, "I think you're really pretty." Oh, Lord, she changed my world. I was like, "You think I'm pretty?" Shaved head, everything. She gets me emotional.
TI: That's okay.
JC: I got this. I'm an actress. Hold it back. 
TI: You said she was also happy.
JC: Happy, wanted to be an artist, and she is. We're friends now. She saw a strength in me that I definitely didn't see in myself. She made me try again, no matter what I look like.
TI: You have this incredible confidence that allowed you to go through so much to get where you are right now.
JC: It's hard, but the support of my mom and her sisters, which are women … I was not raised with a man, only my Uncle Peter. He's my only father figure, and he's 74.
This little girl had became almost a volunteer in the hospital. All the kids felt comfortable next to me because I was one of them, and they're afraid of the doctors. The doctors would come to me to give them their medicine. I was needed by them, but they were helping me. 
And this little girl is looking up to me, and she's Latina just like me, and she's telling me that I'm beautiful, and believing in what I want to do, and saying, "I want to be an artist, and I'm going to be an artist." This little girl just gave me the courage to continue. I went to the Dominican Republic. I got better. I went to the gym. I started to walk, then run, then doing my abs. I started to let my hair grow out. It was this weird hospital mullet, but I was like, "Don't touch me," because I wanted my long hair again. Look now, I cut it all off. It's not about the hair. It grows back, but back then it was all about having my long hair again. But it wasn't even about that. Hair was almost like something that was beautiful but it was taken away, and then I realized that I didn't need any of that.
See Also

Home » Jackie Cruz on Breaking Through as a Latina in Hollywood
Then after I went back to Hollywood with my six pack and my mullet, and I was like, "I'm ready." I tried to get representation, and this girl that I met while I was doing coat check at this underage club, she was on TV. There were a lot of Disney kids who would come in. It was like the Hillary Duffs, and then Seventh Heaven, and all these kids coming in. I was just taking their purse, and checking it in. But I felt so happy, because I was surrounded by what I wanted to be. I'm like, "I'm in the environment. I just have to get in that door." This little girl, she was from The Hughleys, and she got me an interview with Kendall Park, who is an agent at JLA. It was hard, but after months of me calling him non-stop, he auditioned me, and he's just like, "I just don't know what to do with you, Jackie. I don't know where to put you. You're good, but I just don't know."
So it took him a minute to take me in, but eventually he did. I'm a real pain. He was like, "I only take kids," and I was 18 at the time. I'm like, "Come on, I can play 15." So then my first role was in 2006, and I played a 15 year old, Graciana Sanchez, and she was a victim on The Shield, rape victim. But those were the things I was auditioning for, the gangster's girlfriend, which I got, the rape victim, victims and things like that. The jobs were very few and far between. I can tell you I auditioned maybe five times in Hollywood, and they were all victims.
I quit, actually. I quit acting after I got that role, because I wasn't really auditioning for a lot of things. Maybe like commercials here and there for Old Navy. I don't know. Then I turned to music, and music was really what lifted me up.
Music brought me to Miami, and music also brought to New York. I was working in nightlife at this place called Lavo, which is a crazy place, but I thank God for it. I'm good friends with Noah Tepperberg, the owner, and Jason Strauss. Without that job, I wouldn't be able to do what I'm doing right now. Eventually, I missed acting, and I was 23, 24 at the time. There was this girl in my job who would come in. But she would just be this girl from New York, and she had this accent. She'd come in and she'd say, "Don't you mess with my man, my money, and my mama." She would just say these funny things. She would drink a little tequila, a little bit too much. She doesn't drink anymore. She would just say these funny things, and she had a crush on the manager, and I would talk to the manager. She's like, "I saw you talking to my man." I was like, "Yeah, he's showing me how to use the computer." She's like, "Did he say anything about me?" I'm like, "No." I was like, "Oh, my God, you're so hilarious. I'm going to put you on TV one day."
I don't know if it's the power of the spoken word, but I started missing acting, and another girl from work hooked me up with her manager. My first audition was for Flaca. It was feisty Latina, and all I could think of was the girl from work. So I imitated her in this audition for Flaca, and two weeks later I got the call. Literally, it was a day player. I did not know I would continue to work on the show.
TI: Did you read the whole script?
JC: No. I read the three pages they gave me.
TI: So you're expecting here's another stereotypical Latina role?
JC: Correct. I auditioned for the role. I'll tell you what it said. Feisty Latina, and again I'm like, "Here I go again. Feisty? What do you think feisty? Spicy, sexy, hot, hot-tempered?" Stereotype. Things that you don't really want to do anymore. 
Believe it or not, Flaca, she's a New York Mexican. That accent, I make it up, but she's a character. There are a lot of people like Flaca. I've gotten so many emails, "Oh, my God. She's just like me. I love the Smiths. This is amazing to see someone just like me." Even her style, her gothic black lipstick. She was just punk and just a kid growing up in America. You know what I mean? That was me, too. I never saw that representation. Honestly, the first time I saw myself was Flaca. 
I didn't know how important it was to break barriers or to be a role model. I didn't know that's what I wanted. Then when I started telling my story recently in colleges and high schools and all that. I noticed how after I take pictures and I meet the kids and they tell me about themselves — I'm not kidding you, 400 kids would come up to me and tell me how much me, myself, Jackie, how much I'm like them, or how much the character is like them, and how grateful they are to look up to someone that inspires them. 
TI: Was there one specific anecdote that you have, or a tweet that you have from someone, something that really affected you?
JC: I posted a silly video. I did a little commercial thing, and it was about dancing. I don't really dance. I like to do it for fun. But they were videotaping me, and there's like 30 people behind the camera, and I have to do this '90s dance, and I'm like, "I don't know how to do this." Then I'm slowly doing it and looking around, and they're like, "Jackie, Jackie." Then I get into it, I get into it, and I start being myself. I literally posted that on my Instagram. Then I wrote, "Sometimes you just need a little encouragement," and someone commented "You inspire me to be myself." That, to me, was just like, "Wow, that's amazing. That's what I want to do." That's exactly what I want to do. So I tweeted that, and I thanked her for sharing that with me. I really do read all the comments, and it's just special, I don't know, to use your voice and have people listen and care, and inspire people to be themselves. That's great.